Weather: clear, mid 80's, windy
Fished 5:00-7.00 PM
Location: Area Canal, Palm Coast, Florida
Catch: (9) Specks, (1) Bluegill Bream, (2) Warmouth
One of my fishing partners Rick Edwards and I put the kayaks in the water for a quick afternoon jig fishing trip in an area canal here in Palm Coast. We were fishing with a lead head jig with a tube body with skirt. The wind was a real challenge. Every time you got you kayak in position to drop a jig into a little hole in a floating dollar weed mat, the wind would push you off and you'd  have to drop your rod and grab your paddle. Man it was a pain in the neck.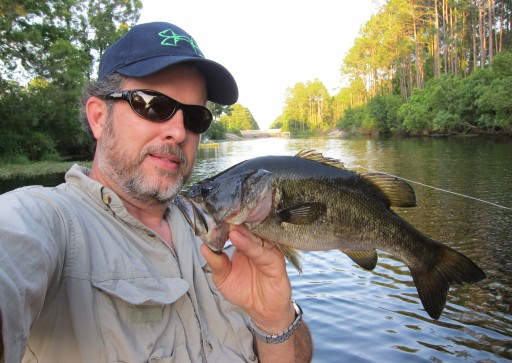 Anyway, we did catch some fish but we didn't really set the world on fire. We caught a mixed bag of about everything, mudfish, bass, bream, warmouth and specks, just not that many of any one species. I lost one really nice speck right at the boat that would have probably went 1 1/4 lb.
We caught a number of bass but the jigs we were using were small and the bass were sized accordingly.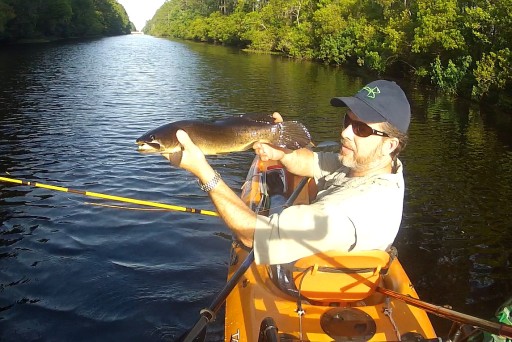 We caught a number of bream but the jigs were a little large for them and most of the bream bites just couldn't get the bait in their mouth enough to get hooked. Had we been fishing with some crickets I believe we would have worked on them.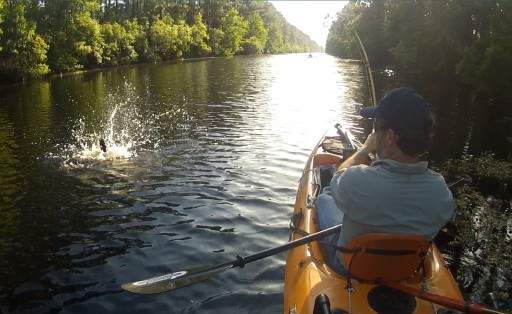 All of the fish were in cover and we did not pick up any fish in open water trolling.
The jigs were fished tight line style in and around the cover and weed mats along the bank. The bit was just a little weak.
I did discover a number of items on my yak that I need to repair before the next trip. Plus the yak is getting a new fish finder . More on that to follow.
Larry S.
February 19,2014
Weather, clear, light ESE winds
Fished 7:00-10.45 AM
Location: Lake George, Volusia County Florida
Catch: (9) Specks, (1) Bluegill Bream, (2) Warmouth
I know, I know….the first thing your going to say is, where's the kayak but I was not leading the expedition into the dark stained water this morning. My good friend Rick Edwards called me late yesterday to see if I could miss a few hours of work this morning so we could pursue some of the monster Specks that Lake George is known for. It didn't take a lot to talk me into agreeing to go. We met up at his place well before daylight and headed out.
There was a little fog and a few stray clouds but that all gave way pretty quickly to a super nice day with very light wind.
Our plan for today  was to gig fish the small lilies that grow up from the bottom and float at the surface. Most all the other vegetation has been killed by the State and their aggressive spraying program. We typically use a fly rod for this with a small lead headed jig and today would be no different. I had put together a new fly rod last year for flats fishing that I had never gotten to test out and though it's a pretty serious rod I figured it could due double duty and also serve to catch a speck.
The lake was full of life this morning. Coots were everywhere, splashing and calling, doing what coots do. Mullet were leaping, other fish would occasionally strike the surface and all manor of bird were about. We saw a good number of ducks flying over head also. We even heard some hen turkeys cutting from the hardwood swamp that bounds the large bay we were fishing. I just happened to have my calls with me but could not raise a gobble.
It was a little slow going but what we lacked in quantity, we made up for in quality. The specks probably averaged over 1.5 lbs. and the largest was 2.2 lbs! That's pretty impressive. We ended up with 8 quality fish and one tiny one that we pitched back. All of the fish were females and their bellies were so swollen with eggs it looked like they were about to pop at any time. We also picked up one good bream and a couple warmouth.
We both fished the same color gig, a black and green tube body with a green head. Probably should have tried some other colors but it's always seemed to produce pretty well.
We called off the hunt about 11:00 AM and headed for the launch, satisfied that we had caught some really great fish on one of the prettiestt days we've had in a while……..and got out of a half a day of work!
Here's some photo's from the trip:
Larry S.
Weather: high 75 deg, Mostly sunny, Barometer has been trending up – 30.24 
Winds: 10-12 mph NE
 Water temp.: ?
Target Species: Crappie (Specks) Method: Drifting with jigs
Location: local canal, Palm Coast, Fl.
Catch: (21) Specks (kept),      (10) Bass,    -Kept (16) Specks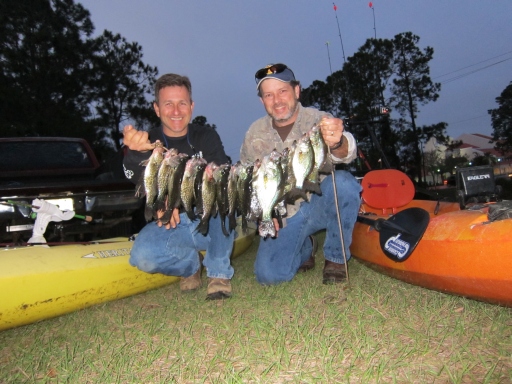 Today was not one of those days you wake up looking forward to. One of my long time and valued friends, Charlie McCraney past away unexpectedly early Wednesday morning and today was the day he was to be returned to the earth. It was a difficult morning.
I have known Charlie for over a quarter of a century and his company will missed.
I decided the best way for me to shake off the depressing gloom was to go put the kayak in the water and try to get lost in catching a few fish.
I made a plan with a friend to meet at a new location that we had been wanting to fish and by 3:00 we were launched and fishing.
We were targeting speckled perch again and fishing with artificial jigs of various colors and types. No one particular color seemed to out produce  today.
The specks were averaging pretty small today also. Most were just big enough to be worthwhile keeping. We ended up keeping (16) and turning back about (5) for a total of about (21). The bass bite was doing a little better today and we ended up catching about (10) of those guys. They were running small also but then, we were fishing with very small baits, 1/8″ to 1/4″ jigs.
We employed our standard trolling technique of paddling backwards with (2) spinning rods trolling back about 25′ With this method you can watch your rods and fight the fish from in front of you. Also, the kayak don't spin around and tangle your lines. We probably paddled about 3 miles and most of that was backwards! It sounds weird but actually works great. I will get some video posted as soon as I can.
The pressure has been trending up since the front that passed by a day or so ago. The bite was not great but we did o.k. and the trip got my mind off Charlie's passing , if only for a while.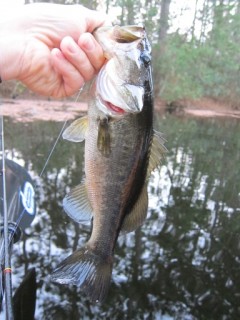 <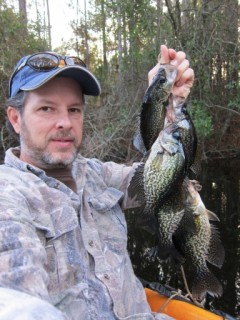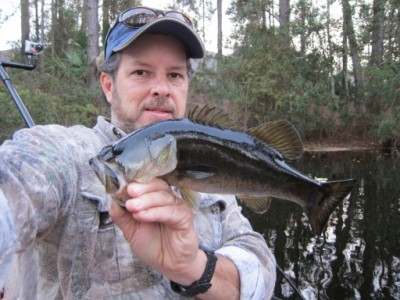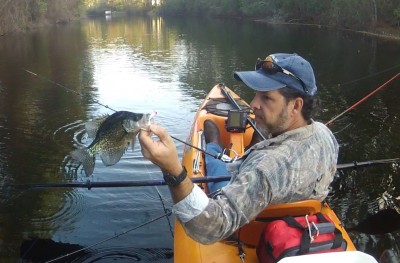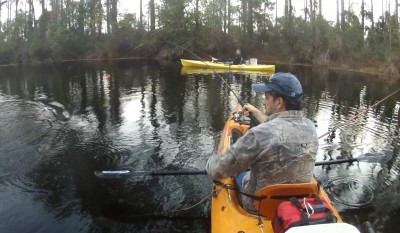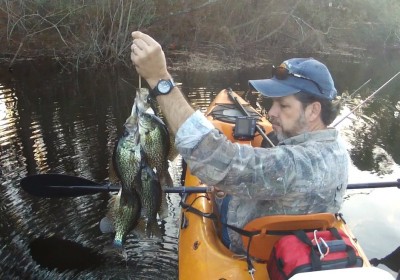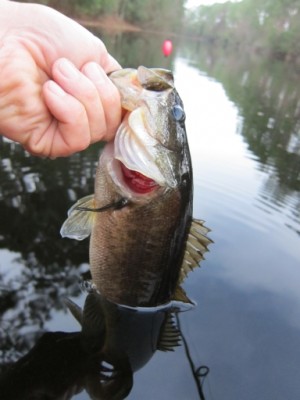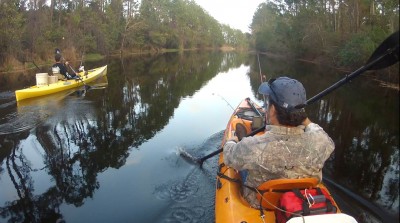 See ya on the water!
Larry S. 
Wednesday, Jan. 9, ,2013
Weather: high 80 deg, Mostly cloudy to overcast later, Barometer has been trending down
Winds: light
Water temp.: ?
Target Species: Crappie (Specks) Method: Drifting with jigs Location: local canal, Palm Coast, Fl.
Catch: (6) Specks (kept),      (3) Bass,   (1) Mud Fish,       lost (2) Bass & (2) Specks
My wife Tammie was off work today so I planned an afternoon Speck fishing trip in Palm Coast.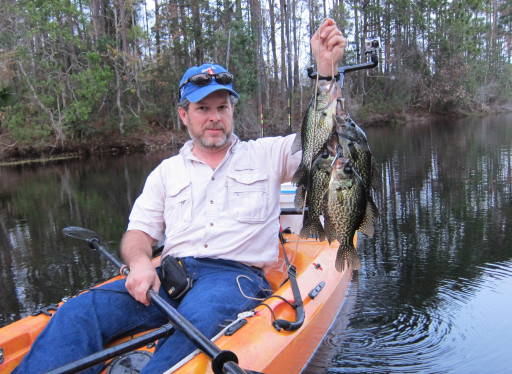 I had to look at a job in Port Orange first thing but on the way back to the office I stopped by Walmart to pick up a variety of Jigs to diversify my supply.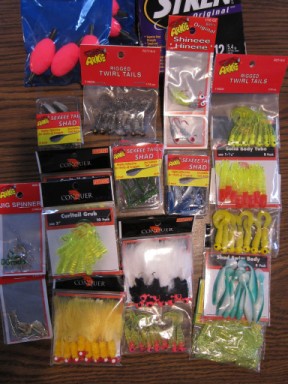 We lunched about 2:30 pm with a light ESE wind. The plan was to suspend a our jigs under a float and slow troll them on a spinning reel well back behind the boat. I like to troll in reverse so I can see the floats and be able to fight the fish from the front and more importantly, be able to video the fight.
I also rigged a small zebco with 6lb mono with a 1/16 oz. jig in chartreuse with a small spinner blade. I caught all the bass on this little rig though they were small. I had (2) others on that broke off.
I also added another species to my "caught by kayak" list…… Mud Fish.
The spec bite did not start until about 4:30 and it was a little slow but we managed to hook-up with 8 and land (6) of those. They were all pretty solid specks and a notch above the ones we caught on Sunday. These were all females but one and all had roe that was 1/2-3/4 in maturity.
I can't say any one color out fished the other but the tow jigs that I remember catching fish on were white with a pink head and a green/white swim tail. We tried several different depths and speeds but could not establish any pattern today.
The pressure has been trending down and I expect that was the reason for the slow bite today.
Here's some more pictures from the trip today: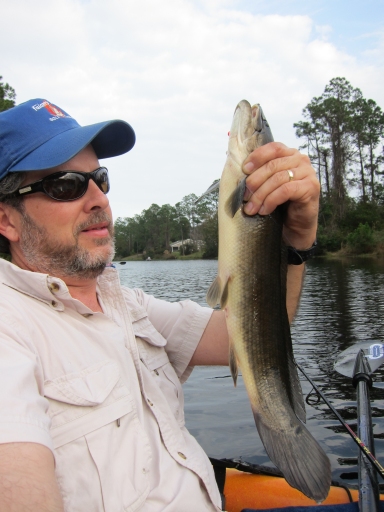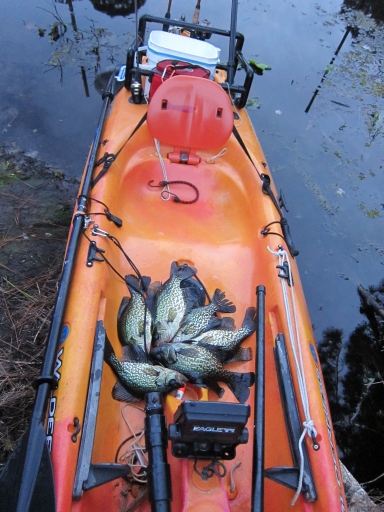 See ya on the water,
Larry Stephens